Procrastination, Ladder of Inference, and Imposter's Advantage
The High Five - Edition # 6
Hey there!
On this week's 'The High Five', we will take a look at some of the quirks of the human mind when it comes to doing things, making decisions and self-talk. It is just a coincidence that these pieces about behaviour and the human mind made into the assortment for this week's edition.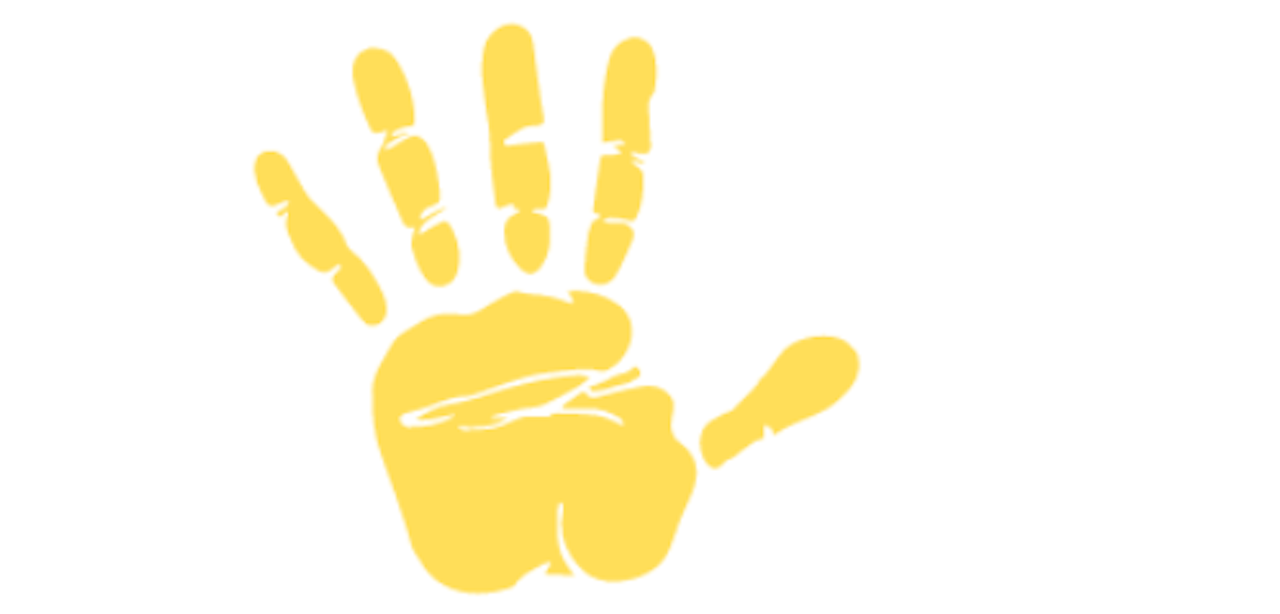 Productivity: 5 reasons you are procrastinating more now
I have been wanting to find a dedicated time slot in my routine every day, for writing. I have also been meaning to process a lot of pictures that I took in the last 1 year. Those are just 2 things on my to-do list for which I set a due date and then keep shifting that due-date to a future date. Why exactly do we procrastinate? More importantly, in the current COVID environment when many of us seem to have got at least 2 hours of additional time back into our day (thanks to the lack of commutes to the workplace), we should be knocking things off our lists more effectively than before. And still, we procrastinate. Why?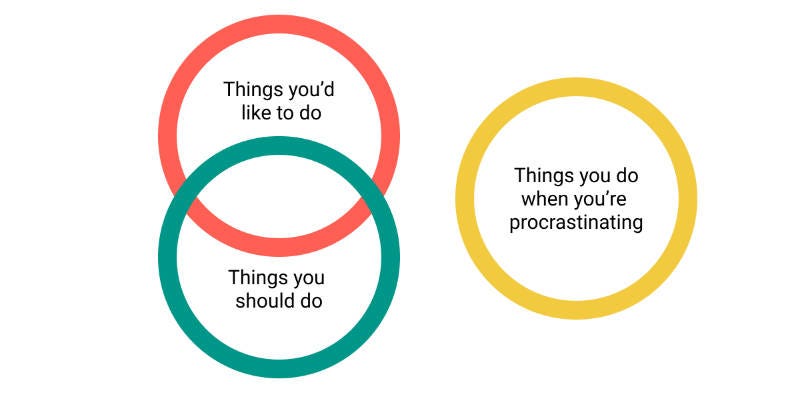 This article attempts to answer that question citing 5 reasons:
Additional stress - Our way of operating has changed. The no. of calls, stir-crazy, general anxiety stemming from this change that is hinged on isolation and social distancing, which is new for us. All these have an impact.

Absence of buffer behaviours - The lack of commute feels good because we are no longer stuck in traffic. But then, for years, we have been used to office commutes that helped us disconnect and gave us some thinking time, idle time etc. If anything, it at least gave a change of environs.

Shifting priorities - There are a ton of issues weighing on our minds and many of them are unresolved/unanswered questions. Like "when will this end?", "what does it mean for long-term?", "will we have our jobs, if this is a long spell?"... and with no definite outlook on the horizon, as things change literally every week, the stress only compounds.

Fewer social interactions - Our social interactions have reduced to tiny boxes on screens. And we know these virtual interactions are not the real thing.

Burnout - As every (work-related) interaction is now a component of your calendar, linearity has replaced concurrence and all that makes your schedule so hectic that you tend of experience burnout barely within a few days.
Procrastination is our way of shifting the goalposts so that we temporarily get some space and time away from taking any decision/action that we have not completely thought through. It is our response to an internal conflict we experience when the deadline is near. I think the key lies in making peace with procrastination (not feel guilty about it) and consciously stepping away from routines and looking at the to-do list in the most comfortable time and space coordinates. What I try sometimes I that I just take an off, casually, on a weekday and spend some time attending to or at least sorting out the things I procrastinated. And if I make a new task list on such a day, I simply ensure that I give myself a reasonable time to get to them.
---
A Framework for Decision-making: Ladder of Inference
How often we examine our inference mechanism? Probably not frequently. We all are generally confident that we deduce the right interpretations from situations and facts and we use those interpretations, to the best of our judgement, to make decisions. While we all, with right intentions, want to keep any biases at bay, they still play out many times - sometimes consciously and sometimes subconsciously. But mostly, we all want to avoid that and be as objective as possible. This article here concisely captures a framework for that. It is called Ladder of Inference, developed by a former Harvard professor Chris Argyris. The Inference Ladder has 7 steps that represent our mental process: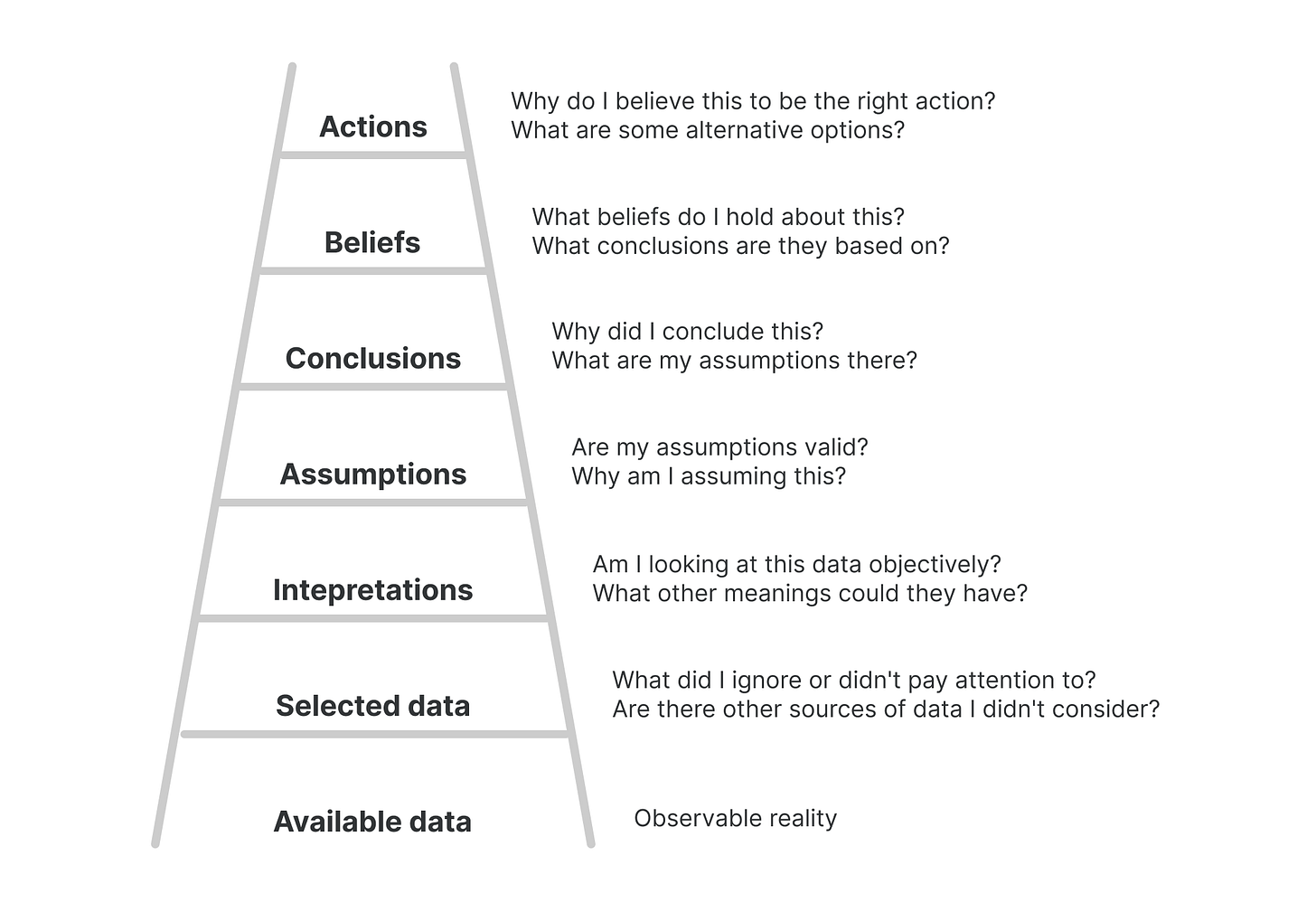 Essentially, the author is asking us to cross-check our mental process by using the activating questions for each layer, just to ensure that our decisions are objective and not influenced by any personal assumptions and biases. What I found fascinating was that the 'Conclusions' layer is #5, right below 'Beliefs'. The article also shows how to apply this framework on a practical example that is about deciding to fire someone from their job. Do check it out. If you zoom our and examine this framework, everything seems logical. But then, our mind is a crazy thing - it has its own chatter going on every day that can trick us into fast-tracking data to interpretations to actions. A framework like this could be extremely useful when we need to take some very important decisions that are life-changing (for us or others). And I think the Master of the Science of Deduction would have been proud of this framework.
---
A perspective that reframed my thinking: The Imposter's Advantage
Have you ever felt The Imposter Syndrome? If you are unfamiliar with this word or phenomenon, here is a simplified explanation: Imposter syndrome is the feeling that you don't deserve to be where you are in life, a phenomenon wherein successful people doubt their competence. Like a renowned musician or writer who has feelings of self-doubt and assumes that 'I am not a good musician/writer. I have not been able to shine much in my field.' The syndrome is characterized by self-doubt about competence and people with impostor syndrome struggle to internalize their accomplishments.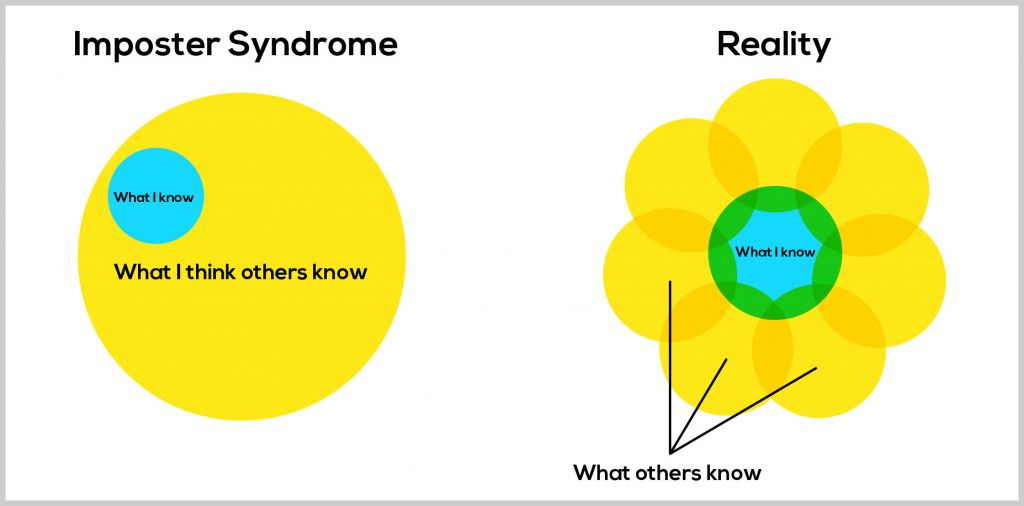 There is a lot of research that says that it is quite prevalent actually and some of the recent studies indicate that it is more prevalent in women. Anyway, I came across this wonderful post on dealing with Imposter Syndrome. The post begins with a funny anti-climatic moment and the writer then narrates his experience with this syndrome and how he overcame it and turned it into an advantage. Don't miss it. I think you will relate to this writer's experience irrespective of you having the syndrome today or not, because we all, at some point in life, might have experienced self-doubt. We all need to be reassured that we are all in the same storm, albeit in different boats and it is only when we come to terms with psychological quirks like these, we can truly build resilience.
---
A quote that resonated with me: "You will move in the direction of the people that you associate with. So it's important to associate with people that are better than yourself. The friends you have will form you as you go through life. Make some good friends, keep them for the rest of your life, but have them be people that you admire as well as like." - Warren Buffet (he turned 90 this week).
---
A question I am pondering about: If you have to write about living a day without the limitations of being afraid about anything, what would you write about?
---
This post was written while revisiting the beautiful Soundscapes - Rivers by Pt. Hariprasad Chaurasia. It has some minimalistic fusion music capturing interesting moods.
If you liked this post, please forward it to someone who you think might enjoy it too. And do post your comments about this week's 'The High Five'.